Lorccan
Lorccan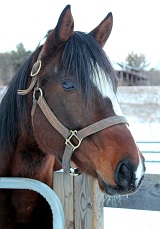 All the volunteers gave many kisses and treats to Lorccan in the days before JoAnn waved goodbye to our Old Friend on May 7th as his van left us for a new career in Kentucky at New Vocations. We'll all miss him very much but we know he'll be happy and will make some new, special friends there. Lorccan, who is 12 now, never seemed to settle into retirement. We wish him much happiness in his new career.
Born Feb. 1, 2004, By Aptitude, out of Designer Phone, by Phone Trick Lorccan is a beautiful gelding. He raced 36 times and was in the money 15 times (7-3-5). He raced from 2006-2008, and 2010. He won 2 stakes races as a 4 year old. These races are the Coyote Lakes Stakes at Aqueduct, and The Salute Me Sir Stakes at Belmont. He also raced in the Gallant Fox Handicap at Aqueduct and the Empire Classic at Belmont. Lorccan missed his entire 5th year of racing due to bone spurs in his leg. He raced in an Allowance race as a 6 year old, and then was retired due to more complications with bones spurs. He arrived at Cabin Creek on 9/1/10. In all, Lorccan earned $278,481. Lorccan was bred by Sorin Stables, owned by Lianna Stables, and trained by James Ferarro. He is NY bred.
(Photo by Connie Bush)
Lorccan's Racing Record:
Earnings: $ 278,481
Starts: 36
Firsts: 7
Seconds: 3
Thirds: 5
Click here for pedigree information
Next Question
Next Question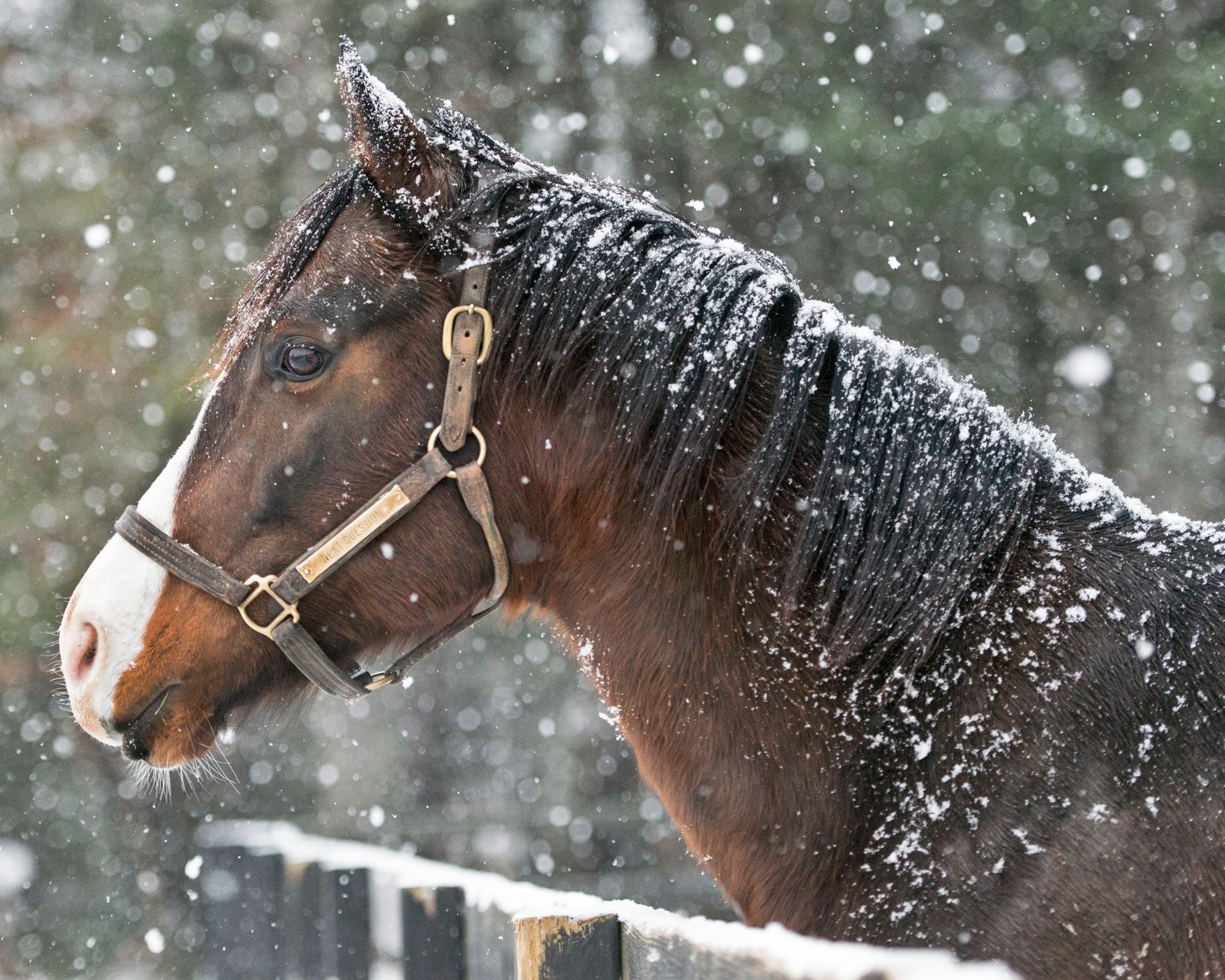 On November 15, 2015, Next Question left Cabin Creek for his new home in New Hampshire. His racing owners always loved him and now he has gone to live with and be retrained by their daughter in New Hampshire at Mountain Lane Farm. He will be enjoying some light pleasure riding retraining and happy times with some of his old (human) friends there! We hope that "Q", as we called him, will return to us in his later retirement and we'll all miss him until we see his beautiful big white blaze again.You can still see him on their Facebook page. It's hard to say goodbye, but he has gone to a place where he will be loved.
NY bred; 2009 by Stormy Atlantic, out of Seattle Stardust, by Seattle Slew. Won 2012 Nearctic Stakes (Gr. 1) at 16-1 at Woodbine, which gave him a berth into the Breeders' Cup Turf Sprint. Came in 3rd in the Around the Cape Stakes at Belmont Park, came in 7th in the Breeders' Cup. Owned by Three Diamonds Farm. Q, as he's know at the farm, is happily retired. (Photo by Connie Bush)
Next Question's Racing Record:
Earnings: $ 424,391
Starts: 13
Firsts: 3
Seconds: 1
Thirds: 2
Click here for pedigree information