In Memoriam: Crusader's Sword
Crusader's Sword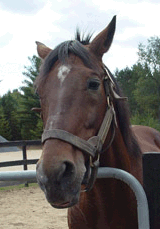 CRUSADER SWORD,
1985-2014

It is with great sadness that we announce the passing away of our dearly loved old friend and stallion, Crusader Sword , 29 years old. Grandpa, as many of us called him, died on Saturday evening, May 10th, with his loving 'mom', JoAnn by his side. Many volunteers had surrounded him with love Saturday and saying goodbye was very hard.
Crusader was Virginia bred by Paul Mellon, trained by Mack Miller and was a true Grade 1 champion. We all miss his nickers and dinner dance which he performed at every meal, his beautiful eyes and his many licks for both volunteers and fans alike. Grandpa loved apples and carrots and was always kind and gentle to guests and children; a true elder statesman of Old Friends at Cabin Creek.

We'll remember always our beautiful Crusader Sword.

1985 by Damascus out of Copernica 25yo stallion Arrived at Old Friends Cabin Creek on 9/4/10 from Foggy Bottom Farm in Geneseo, NY (located in Livingston County, NY). Raced only two years, age 2-4yo. Started his stud career at age 5yo. At age 2yo he had 5 starts, 3 were wins (Hopeful G-1; Saratoga Special G-2; Futurity G-1 at Belmont) for his first year earnings of $203,580. At age 3yo he won an allowance race at Belmont earning $49,400. At age 4yo he won one allowance and one G-2 and earned $74,496. His racing record is 21 starts for a record of 6-3-5 for a total career earnings of $327,476. At stud he sired 426 foals, 341 were racers whose combined earnings total is $17,831.327.
Crusader's Sword's Racing Record:
Earnings: $ 327,476
Starts: 21
Firsts: 6
Seconds: 3
Thirds: 5
Click here for pedigree information