In Memoriam: Thunder Rumble
Thunder Rumble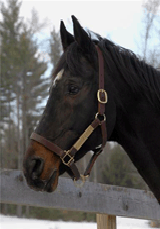 Thunder Rumble, the 1992 Travers winner and 26 year old stallion lived here. On January 6, 2015 we lost our majestic Alpha leader due to complications from colic. He was a magnificent dark bay stallion at 17 hands and he took his job as leader seriously at Old Friends at Cabin Creek. His racing stats were impressive. He broke his maiden as a 2 year old by 12 ¾ lengths and was the first NY colt to win the Travers since 1867. His time has still not been beaten since his win in '92. Thunder, as he was called at the farm, earned his connections over one million dollars. (Here he's conversing over the fence with one of our 'brides'). The Peppers and all the volunteers at Old Friends at Cabin Creek feel extremely honored to have cared for Thunder Rumble in his retirement years at the farm. The many visitors and fans who loved him made his last years very happy.
1989 by Thunder Puddles out of Lyphette 21yo stallion Arrived at Old Friends Cabin Creek on 12/3/09. In the 1990s he proved his greatness winning the 1992 Jim Dandy Stakes and then went on to be the first New York-bred colt since 1867 to win the Travers Stakes. Injured his ankle while running the 1992 Breeders Cup Classic. Came back in 1994 to win the Saratoga Cup, at the end of that same year he was retired from racing. His racing career included 19 starts, 8 of them wins for a career earnings totaling $1,047,552. While living at Keane Farm and later in Virginia he sired ten small crops that included multiple stakes winner Frisky Thunder before his retirement from breeding in 2006. FYI: Since he won the Travers Stakes in 1992, no horse has beat his time (2:00.80 minutes the .80 is 4/5ths of a second). Thunder Rumble is tied with Easy Goer, the winner of the 1989 Travers Stakes, as having the 3rd fastest time. The fastest on record is General Assembly (son of Secretariat) who won the 1979 Travers Stakes in 2:00.00 minutes flat and the 2nd fastest on record is Honest Pleasure who won the 1976 Travers Stakes in 2:00.20 minutes. (Photo by Connie Bush)
August 2012 we celebrated the 20th anniversary of Thunder Rumble's Travers win!

Thunder Rumble's Racing Record:
Earnings: $ 1,047,552
Starts: 19
Firsts: 8
Seconds: 0
Thirds: 1
Click here for pedigree information