In Memoriam: Will's Way
Will's Way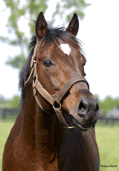 Will's Way
1993-2020
We lost Will's Way last night (December 24) and our farm will never be the same. He was magnificent and so loved. He spent his last 10 years here and I think he loved every minute. He loved to bite which over time we accepted that was how he showed us his affection, he just liked to hold on to us. I will miss those times. He taught us so much and he was the boss. Run free Will with all of your Old Friends.
Somewhere...
Somewhere in times own space
There must be some sweet pastured place
Where creeks sing on and tall trees grow
Some paradise where horses go
For the love that guides my pen
I know great horses live again
-Stanley Harrison
Born April 22, 1993, by Easy Goer, out of Willamae, by Tentam
Will's Way was a remarkable KY bred stallion. Will was a "Saratoga Sensation." Like his neighbor Thunder Rumble, Will's Way won the Travers Stakes. The year was 1996. He almost won the Jim Dandy, but was beaten by a nose by Louis Quatorze, who won that year's Preakness Stakes. Seeking revenge, a determined Will's Way destroyed the field in the Travers, which included Editor's Note who came in 3rd in the Preakness and won the Belmont, and Skip Away (considered one of the best racehorses of all time, and also was the most earning horses of all time before Curlin beat his earnings record), who placed in the Preakness and Belmont. Will's battle with Louis Quatorze was an intense one. They battled right to the end, but Will prevailed and would not let the Triple Crown contender be in front of him again. Skip Away was 3rd and Editor's Note was a distant 4th. After the Travers, Will raced in the Breeders' Cup Classic, and like Thunder, finished 7th, but without injuries. In 1997, it seemed as if Skip Away and Editor's Note didn't get their "fill of Will." They both pursued him in the Whitney Handicap. Skip Away was once again a distant 3rd, and Formal Gold, that year's Brooklyn Handicap Champion, beaten by a nostril. As for Louis Quatorze; he didn't show up. After Will showed in the Woodward at Belmont, he retired to stud where he sired 171 foals, including multiple graded stakes winner Lion Tamer (who in turn sired multiple stakes winner, Heavy on Themister). He also sired 4 other stakes winners, 11 placed-stakes runners, and earners of over $5.9 million. Will was retired from stud due to low fertility. Will's Way made $954,400 from his racing days. He raced 13 times and was in the money 11 times (6-2-3). H. James Bond was his trainer. He arrived at Cabin Creek on 6/25/10.
Will's Way's Racing Record:
Earnings: $ 954,400
Starts: 13
Firsts: 6
Seconds: 2
Thirds: 3
Click here for pedigree information