In Memoriam: Karakorum Patriot
Karakorum Patriot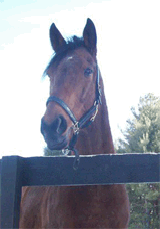 Karakorum Patriot
2000-2017
Our hearts are broken. We lost our sweet Patriot last night (May 8, 2017) in a paddock accident. His full name is Karakorum Patriot and he had been with us since we started Old Friend at Cabin Creek. He was a warrior of racing, a character among horses, and Cool n Collectives best friend. Things are never the same when we lose one of our beloved boys. Run free Pate. We will love you forever my friend...
Born May 1, 2000 by Personal Flag, out of Lucky Lady Susita, by Distinctive Pro
Karakorum Patriot was a spunky NY bred gelding. Pate raced mainly at his home track, Finger Lakes, where he squared off against Midnight Secret frequently. He raced in a few stakes races in the middle of his career, such as the Mugatea Stakes at Belmont, the Hudson Handicap at Belmont, and the Wine Country Handicap, which he placed in at Finger Lakes. After his was finished racing, plans were being made for him to race in Puerto Rico. This attracted the attention of many people such as his breeder Richard Zwirn of Rainbow Stables, Susan Hamlin, Joy Dunn, Karakorum Racing, who campaigned him from 2003-2006, and a woman named Dara who fell in love with him and his story. This group of wonderful people raised the $1000 to save him and retired him to Old Friends. He was in the money 47 times from 89 starts (13-14-20). He earned $347,503. He arrived at Cabin Creek the same day as Midnight, 12/4/09. Pate was trained by M. Anthony Ferarro.
Karakorum Patriot's Racing Record:
Earnings: $ 347,503
Starts: 89
Firsts: 13
Seconds: 14
Thirds: 20