Red Down South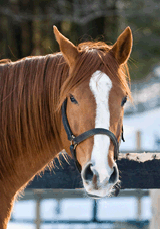 Born April 24, 2000 by Dixie Brass, out of Redeye Rain, By Instrument Landing
Red Down South is a stunning NY bred gelding. Arriving to Old Friends on 2/17/10, and donated by owner/trainer Dennis Brida, beautiful Red Down South was a turf runner. Red came in the money 9 times (2-3-4) in 32 starts for career winnings totaling $116,330. He came in 3rd in the NY Stallion Cormorant Stakes and came in 8th in the same stakes race a different time. He also raced in the Great White Way Stakes (came in 7th ) at Aqueduct. His last race was in 2007, ridden by Calvin Borel. Red retired sound and is a very loving horse. He loves children and loves to have his picture taken.
*** Red's sire, Dixie Brass, was trained by Dennis Brida and came in 2nd in the 1992 Jim Dandy (first place in that race was Thunder Rumble).
(Photo by Connie Bush)
Want to Sponsor Red's Care?


Red Down South's Racing Record:


Earnings: $ 116,650




Starts: 32




Firsts: 2




Seconds: 3




Thirds: 4
Click here for pedigree information