Upcoming Events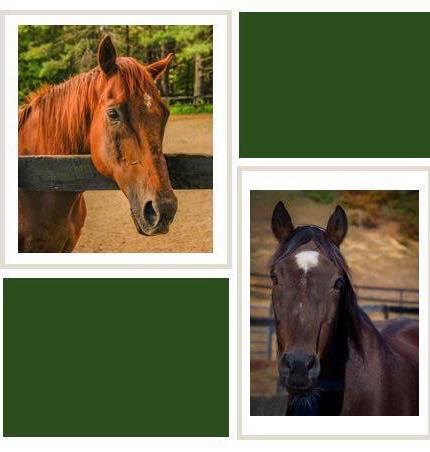 Whitney Challenge
Longtime visitor Karen has asked our supporters to join in a "Whitney Challenge" this year to benefit our horses, including our two Whitney winners, Will's Way and Commentator. With the track closed to visitors, she is donating what she would usually pay for parking, admission, and food costs at the track to Old Friends at Cabin Creek for a total of $50. If you'd like to accept Karen's challenge, please visit
oldfriendsatcabincreek.com/onetime-donation
. The horses sure could use it!
UPDATED TOUR INFORMATION and HOURS
Hello old and new friends,
Fall/Winter Hours have begun!
We are open
Saturdays ONLY from 12:00-3:00pm.
Open house style, no reservations are needed. We have our Covid-19 guidelines in place and are looking forward to seeing our visitors again!! The horses have been well cared for and loved but have missed the excitement of the tours, treats and folks. I think they miss hearing their own stories. So, come on over and we will catch you up on life at Cabin Creek!!
See you soon, JoAnn & Mark
---
NEW HOURS:
Saturdays ONLY 12pm-3pm
---
THE REOPENING OF CABIN CREEK TOUR GUIDELINES:
Social distancing at 6 feet is the best defense.
It is always required for everyone on the farm to wear masks.
Visitors will be required to read our guidelines and disclaimer on our website or receive handout.
Folks are encouraged to take selfies with their own phone.
We will implement all CDC requirements. Including tracing requirements.
Our greeters will be at the end of the driveway to instruct folks where to park and to wait in or next to their car.
Tour guides will walk over and get them when ready to start tours.
We will have a hand washing station but will only have soap and cold water. Also, we have hand sanitizer.
Treats will only be given by tour guides. No exceptions. This is only temporary and in the best interest of everyone as we will not be cleaning the horses faces after every touch.
After tours come on in the barn to see our merchandise. We will have a table set up in the isle with volunteers ready to help you.
We will just need to keep people moving. Not hanging out in groups in the barn etc.
We will have a porta-potty available.
We are grateful for your visit and donations as we continue to live by our mission. To provide a dignified retirement and to raise awareness of all horses needs when their racing careers are over.
An inherent risk of exposure to Covid-19 exists in any public place where people are present. Covid-19 is an extremely contagious disease that can lead to severe illness and death. By visiting Old Friends at Cabin Creek, you voluntarily assume all risks related to Covid-19. Thank you for your understanding.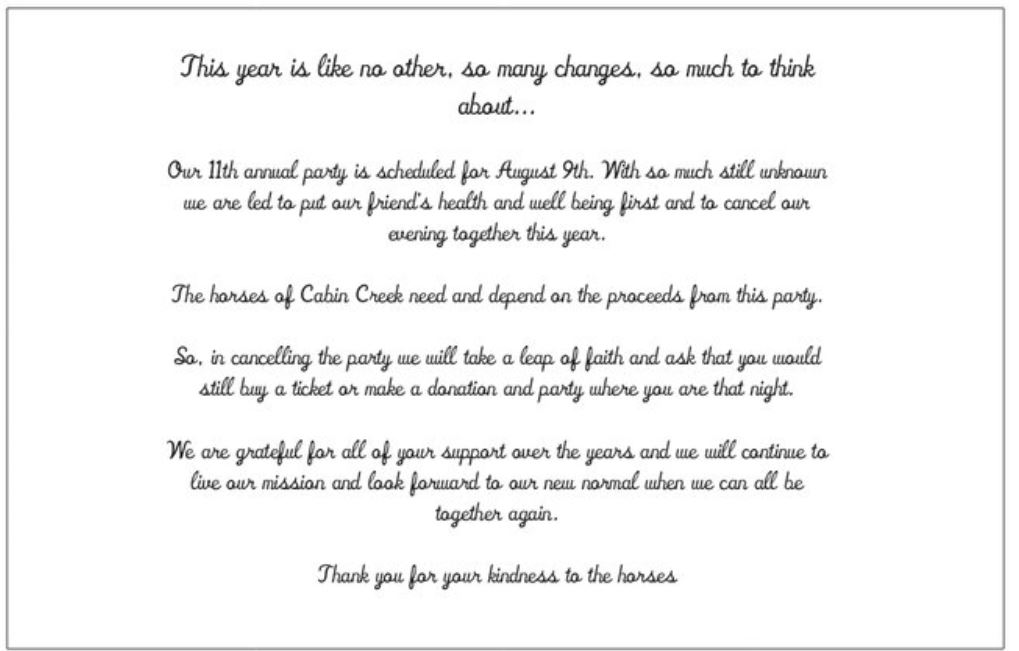 ANNUAL "After the Race..." COCKTAIL PARTY UPDATE: